Agent Adriana Kenner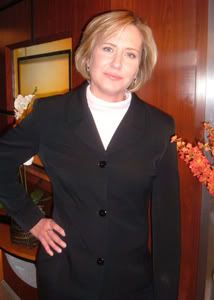 Name : Adriana Marilyn Kenner
Rank/Agency: Special Agent, Diplomatic Security Service, Federation Department of State
Race : Human
Place of Birth : Vulcan
Home Planet : Earth
---
Attributes
Age : 38
Height : 5'8"
Weight : 137 lbs.
Hair Length : Short
Hair Color : Blonde
Eye Color : Blue/Grey
Physical Description : Small framed but muscular, well groomed, with a piercing stare and physical presence that many find intimidating.
---
History
Head of security at the Federation consulate general on the notoriously seedy world Ramos VI, Agent Kenner fled the consulate with Consul General Rosslyn Tanaka after their Starfleet attache ordered Tanaka to return home and cede power to him, following the attacks on San Fransisco. She thereafter met up with Secret Service agent Ellyn Leighton, and the three women laid low together in one of Ramos' "red light" districts, finally escaping Ramos when Ellyn Leighton brought them to Trinity Core with her.
---
Hobbies and Traits
Martial arts, reading, galactic law, painting.
---
Family
Husband: Brett Kenner, Federation Revenue Service
Mother: Lily Biers, Federation Ambassador (Ret.)
Father: Oleg Biers, Captain (Ret.), Starfleet
Brother: Lieutenant Commander Mark Biers, Starfleet
page revision: 6, last edited: 18 Sep 2008 00:02